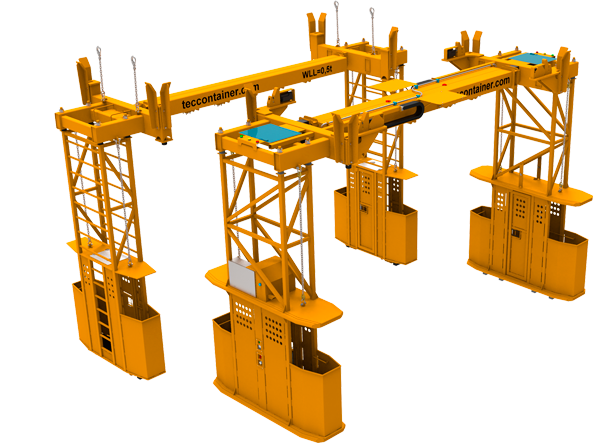 It is a gondola-type cage that allows up to four container lines to be worked on at the same time. It can be operated by up to four stevedores (two on each side), it is telescopic, which allows it to work on containers on both 20- and 45-foot containers and it has an electrical bolting system that guarantees total safety.
INNOVATIVE AUTOMATIC BOLTING SYSTEM
The cage has an automatic bolting system with an electric drive, rather than a mechanical or manual transmission, which would require human intervention, it has a control system responsible for guaranteeing that the bolts are closed whenever the cage is in the air, hence
it impossible for it to be improperly anchored or for there to be a human failure due to carelessness
. The double security system, instead of using chains manually hooked to the spreader lugs allowing the deformed containers to be handled, is the bolting system. It has independent actuators in each of its four corners, which are synchronised and have safety software guaranteeing that they are correctly positioned in each phase of the operation.
10 FURTHER REASONS THIS
CAGE IS #1

1. Its safety indicator light system: a green light and a red light to give indications to the crane operator.
2. An interior light to make it easier to work at night.
3. Solar panels to charge the batteries.
4. PLC with the screen makes maintenance work easier and allows manual operation if
desired, makes it possible to control the work cycles, the status of the sensors, etc. In short, to diagnose the state of the machine quickly and simply.
5. A safety factor of 10.
6. 100% continuous welding to prevent corrosion.
The model can also come with no end of extras including:
7. An emergency stop control to inform the crane operator of any incident using a siren and flashing lights.
8. A data logger that lets you know how the machine was operated in the past, as well as opening the way to predictive maintenance.
9. Access control on the door so that the stevedore can only enter when conditions are suitable.
10. Detection of parking in the cradle or on the ground.