Cranes allow ports to transport cargo from ships to shore and vice versa. Furthermore, they are used for other tasks like ship repairing, stranding of ships or auxiliary operations becoming a common sight on any port. This variety of functionalities to develop require different types of cranes, specialized to work under certain conditions and available space.
Types of cranes you can find in every port
Ship To Shore cranes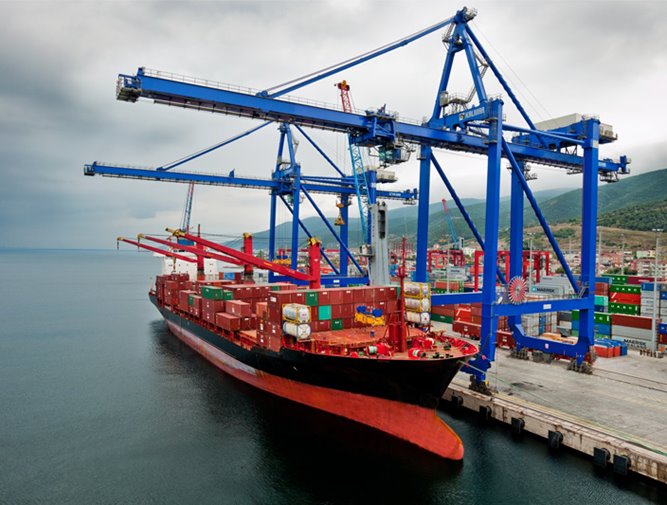 These cranes are designed to handle cargo, most of the times ISO Containers, from a ship to dock or vice versa. Instead of a hook, they are equipped with a specialized handling tool called a spreader. This piece of equipment can be lowered on top of a container and locks to its locking points using a twistlock mechanism.
Panamax, post Panamax and Super-post Panamax
The term Panamax is derived from the name given to ships passing through the Panama Canal. STS cranes are called Panamax when they can fully load and unload container ships capable of traversing the Panama Canal. These ships are generally 12-13 containers wide.
Post and Super Post Panamax cranes are capable of handling cargo from container ships ranging from 18 to 22 or more containers wide respectively.
Gantry cranes
The most characteristic part of these cranes is, obviously, the Gantry: an overhead frame structure that holds the crane itself. They are sometimes called portal cranes, referring to this frame as the portal.
They usually have a straight-line route, defining its work area and allowing other machinery to work underneath. Those cranes, inside a container terminal, are in the area called Yard, where the containers wait for the next step in their logistic chain. We can say that Gantry main task os to manage the input / output flow of containers in the yard.
RTG / RMG
Gantry Cranes are divided in 2 subcategories depending on its horizontal translation mode. RTG means Rubber Tied Gantry while RMG means Rail mounted Gantry.
Its size can range from huge structures capable of moving the heaviest of the loads (some STS cranes are actually Gantry Cranes) to small, adjustable and portable cranes.
Deck cranes
These offshore cranes are commonly mounted on the upper deck of a ship. They have a compact structure, so they can occupy the smallest deck area possible, raising loading and unloading efficiency.
Container ships working on small ports, with no STS cranes available, benefit from this type of cranes and its accessories to handle cargo with almost no infrastructure: spreadres and frames.
Other types of port cranes
Bulk handling cranes
Non-containerized cargo requires different machinery to be handled. Instead of hooks, bulk handling cranes are grab cranes. They use different types of attachments to handle bulk cargo, like coal or sand.
Orange-peel grabs or clamshell buckets are some of the most recognizable attachments to this type of crane.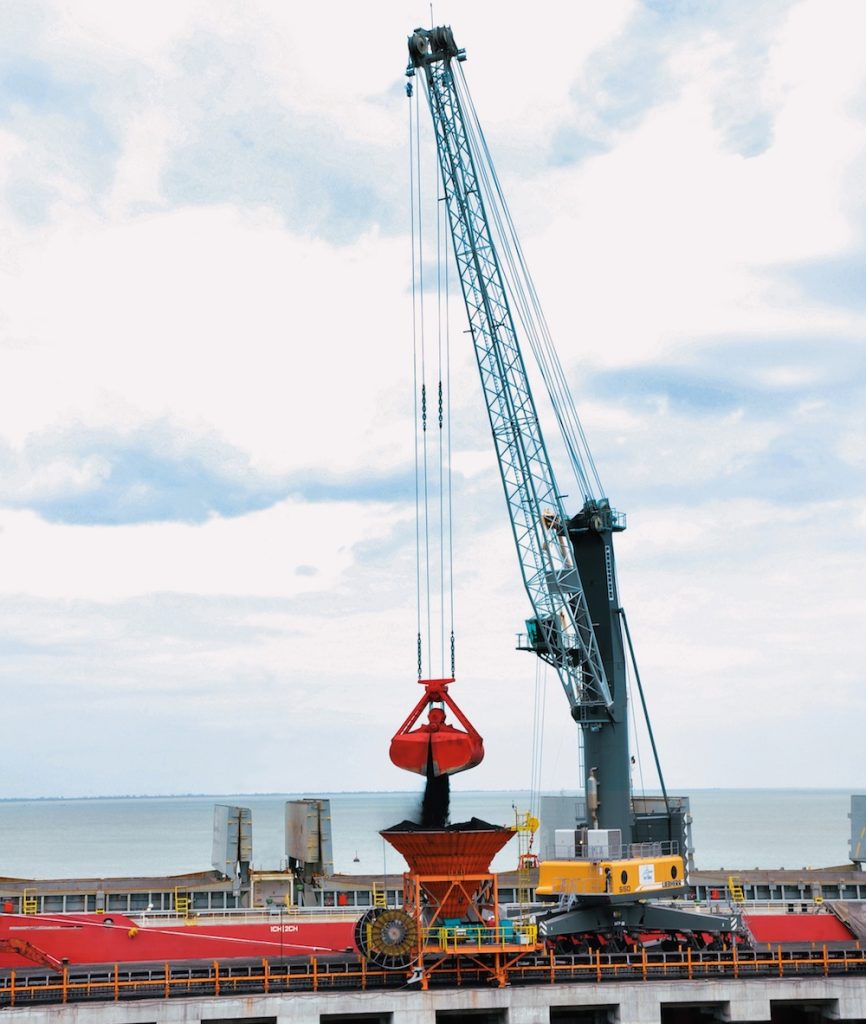 Floating cranes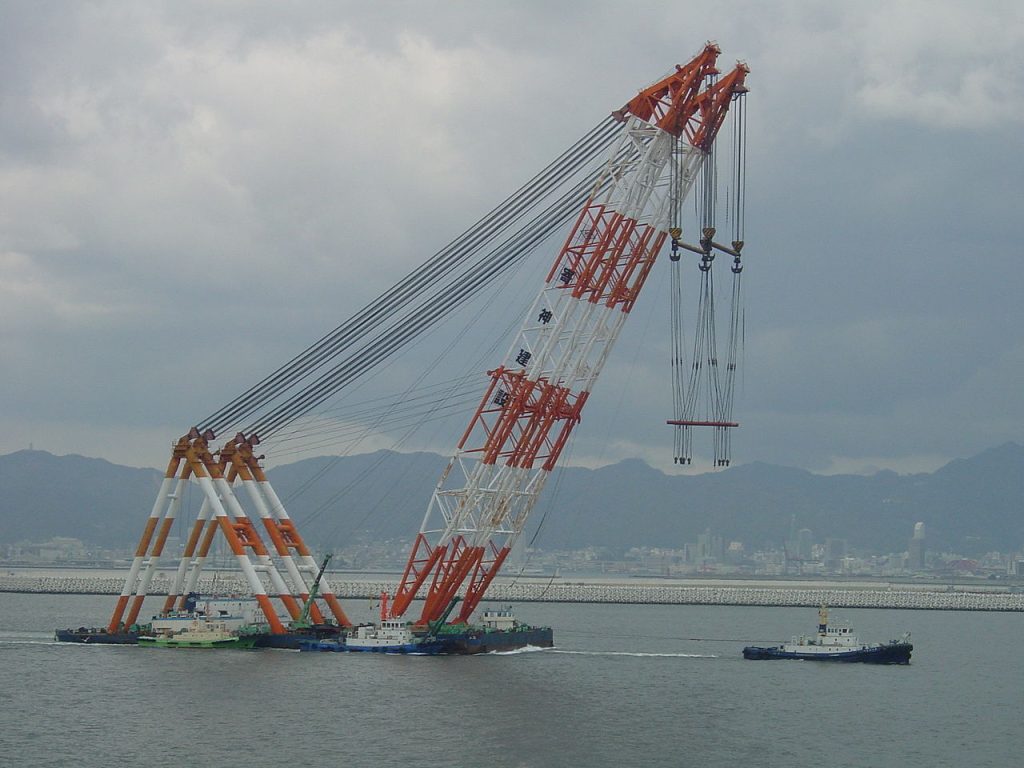 Also called crane vessel o crane ships. They are basically big cranes mounted on a ship, specialized on lifting heavy loads. Some of the biggest crane vessels are used for offshore construction
Hammerhead cranes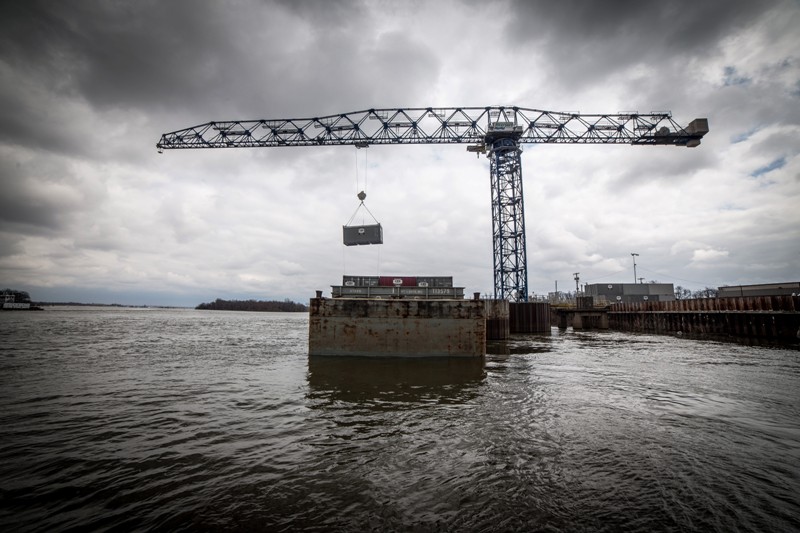 Is probably one of the most common types of cranes around the world, although they are famous because of their sight in construction sites. Their easy maintenance and reliable performance make them a widespread option for moving all kinds of cargo.